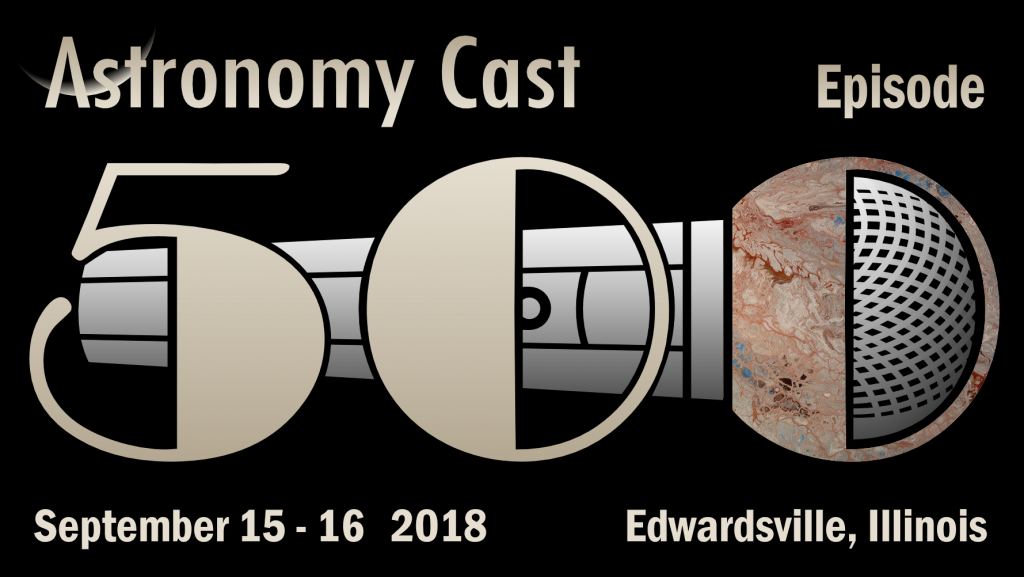 The 500th episode of Astronomy Cast is fast approaching and we at the WSH Crew are planning a weekend-long event to help celebrate this milestone with Fraser, Pamela, members of the Crew, and, of course, our loyal viewers.
All fans of Astronomy Cast are invited to join us in Edwardsville, IL, on September 15 & 16 to participate in a special weekend full of science and astronomy-related festivities, culminating in the live recording of the 500th episode of Astronomy Cast.
You'll meet both Pamela and Fraser, along with folks from the WSH Crew and the CosmoQuest families, such as Dr. Morgan Rehnberg and Composer David Joseph Wesley. As an added bonus, Fraser is planning a special live Q&A episode of one of Universe Today's shows.
Other weekend activities are being discussed and planned, such as fluid painting of tiny planets with Pamela (see product purchase option below), and outings to local attractions (guests are responsible for their own admission charges). Weather permitting, there will be stargazing Saturday evening. And who knows, maybe Eddie will make an appearance or two throughout the weekend!
Travel and lodging are not included – each guest is responsible for their own transportation and hotel! Hotel information is available below.
Online registration for the weekend is now closed. If you'd like to attend and haven't registered online, a limited number of registrations will be available for $250 on-site. Contact us at ac500@wshcrew.space for directions and information. Everyone who registers will receive a goodie bag full of memorabilia from the weekend.
Watch for additional options to be added here as things get planned!
Hotel Information
The AC500 Committee is happy to announce that we have selected the Holiday Inn Express & Suites Edwardsville as our official home base for the weekend. Many of us attending will be staying there.
You can now make your reservations by clicking on the link above. Please note that every registrant is responsible for making their own reservations. Cost of room reservations is NOT included in the event registration fee.
If you have any questions, send an email to AC500@wshcrew.space.
We hope to see you in September!