Waiting List
UPDATE: We are now completely full on registrations at this point. If you'd like a chance to attend, we are keeping a waiting list for people who were interested, as registered attendees can cancel until Aug. 1 with a full refund of our fees. So, slots may come open over the next few months!
If you'd like to join our waiting list, please email us at astronomycast@gmail.com and we'll add you, in the order in which we receive emails. Just put the words "Eclipse Waiting List" in the subject line so we can spot your emails easily. We hope to see you there!
If you have already registered, you may still purchase bag or banquet add-ons below. Your ticket includes the reception listed as well.
Quick Facts
Dates: Friday 18 August 2017 to Monday 21 August 2017
Where:

Aug 18-20: Moonrise Hotel, St Louis, Missouri
Aug 21: Chasing the Sun in a Charter bus

Registration Cost: US$350
This does not include hotel rooms or
travel to St Louis. Registration opens
noon Central, 24 August 2016.
Trip add-ons you can purchase

Sunday Night Banquet: US$65
*Eclipse Go-Bag: $55        This is free if you're a member of the ASP!
The go-bag includes: a bag (d'uh), eclipse glasses, a T-Shirt, and water bottle
Program Overview
Fraser and Pamela invite you to join them in St Louis, Missouri for 4 days of astronomy and other geekery. We have reserved event space in the amazing Moonrise Hotel, right in the heart of the famous Delmar Loop.  Things will kick off Friday evening with an opening reception. Both Saturday and Sunday will be a mix of astronomy talks, practicing photography skills for capturing the eclipse, and otherwise hanging out talking science.
For the day of the eclipse, we have chartered buses to take us to the eclipse. Exactly where we land will depend on weather. Plan A is Carbondale, Illinois, where NASA will be hosting their webcast, and where a myriad of science activities are planned. Plan B is in a park south of St Louis, where the travel is less, but so are the NASA-related activities. Plan C is… wherever it is clear along the path within ~100 miles. A detailed program will be made available in early 2017.
The US$350 Registration fee for this trip covers:
A reception with food and a cash bar on Friday night
Event space with morning and afternoon snacks on both Saturday and Sunday
A charter bus and food (lunch, dinner, and snack) on Monday
Attendees are responsible for their own travel to St Louis, all meals, and their hotels costs. 
* We are pleased to be partnering with the Astronomical Society of the Pacific on this event. All ASP members will receive the eclipse go-bag for free!
Hotel and Event Travel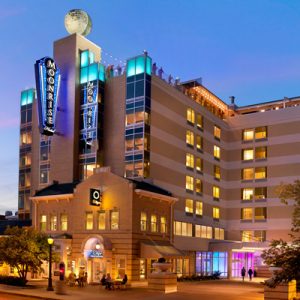 We have arranged for a block of discounted rooms at the Moonrise Hotel (UPDATE: The Moonrise Hotel is now completely booked.) This boutique hotel is in the heart of the Delmar Loop, where food and entertainment abounds. The hotel has free parking, and is themed after the Apollo mission.
The St Louis Eclipse Task Force is working on arranging travel discounts with major airlines, and at additional hotels. As soon as we have information, we'll link to it here.