We are at capacity and have closed the waiting list. If you have already registered, you may still purchase bag or banquet add-ons below. Your ticket includes the reception listed as well.
Q1: CLOTHING?
We are expecting our Eclipse Escape weekend to be a casual event, so guests are welcome to wear what they would like – we've even had some guests ask about costumes. We encourage you to wear your favorite space or geek-themed gear if you're interested, or just casual comfortable clothing. (Disclaimer – being nude is not a costume! We are subject to public decency laws in St. Louis and in any other municipalities we may be venturing for viewing.)
More seriously, our goal is that everyone is comfy in the heat and humidity that is St Louis, MO and Southern Illinois in August! Average daytime highs for that week of August are 85-88? (29-31?) and lows at night run about 67-70? (19-21?). Humidity for those days averages between 58-65%. Please bring sunscreen, hats, umbrellas, any items you might need to be comfortable outside in the sun on Eclipse day!
From our Facebook group post, Pamela says:
"I plan to dress up for the opening reception and banquet, because cocktail dresses are fun, cool, and I don't get to wear them a lot. So if you'd like to dress up, please feel free to – some folks may even come in their favorite scifi costume! However dressing up is not required. That said – there is a lower limit. Please do not look like a person of Walmart (please – no "wife beater" tank tops on men, or overly short/tight anything on anyone. If the length/tightness would be mocked on Project Runway, it's too short/tight)."
Q2: Do I need to bring Eclipse glasses?
We will provide basic eclipse glasses to *everyone*. You do not have to bring your own!
Q3: T-shirts, bags, water bottles?
Those you have to buy (or join the ASP and tell me you joined). Check out the purchase link on the Solar Eclipse page.
Q4: Why are you asking if I will have a car?
Just in case many things including: We have a medical emergency and need to know who is near that can help; We discover "We need [X]" where X is something I clearly didn't think of, and we need to send someone somewhere. (I once sent someone to get orange juice for someone who had diabetes and was having low blood sugar issues – so just those kinds of thing!)
Q5: Do I need a car?
Nope. We will have buses to take us to the viewing sites!
Q6: Do I need anything?
Yourself, clothing to cover your lovely self, and money to cover meals on days that aren't the eclipse day. (There are cheap options nearby. Lists will be going up shortly.)
Q7: What restaurants or bars are near the Moonrise Hotel? What else is there to see in St. Louis?
The Moorise Hotel is located on the Delmar Loop, a lively street which has a fantastic website here – Visit the Loop!
St. Louis has a great website of Things to Do, which includes food, drink, shopping, attractions and more – Explore St. Louis!
Q8: What are the travel options to and from the airport?
The Moonrise Hotel does not offer airport shuttle service. Other hotels may – you will need to check based on where you might be staying.
However, St. Louis has a good system of mass transit called the Metrolink. It provides service to a station 1250 feet from the Moonrise Hotel, with the fare from the airport to the hotel being about $3, and the average trip time being about 25 minutes.
Metrolink Schedule and Information
Taxis and Uber are also available to and from the airport to the hotel. Expect taxi fares to be about $35 each direction. Uber to the airport will be about $25 but Uber FROM the airport will run you about $65 due to a licensing cost.
Q9: Are you hoping that many of us will wear our new eclipse tee-shirts on Monday?
Yes, if you purchased a go-bag with a t-shirt, you are welcome to wear it, however it's not required!
Q10: What kind of ID is required? What will security at the viewing site be like?
Everyone should have a photo ID such as a driver's licence or passport for US citizens, and a passport for non-US citizens. Please do not bring firearms, knives or weapons to any of our events for the weekend. There may be some limitations on what you're allowed to bring into the stadium, but we'll have a location to keep coolers and equipment.
Q11: What times are you planning for the events?
Here is the rough schedule – we're working hard to fill in the details:
The reception on Friday, 8/18, will run from 6 pm until 10 pm. You may come and go as you like.
We have rooms from 8 am until 4 pm on Saturday and Sunday where we will have speakers and snacks – the exact times of the presentations aren't set yet.
Saturday night we also have a room until 10 pm – sometime after dinner we'll have a concert from Marian Call there.
Sunday night's banquet will be from 6 pm to 10 pm
The buses are expected to arrive at the Moonrise Hotel at 5:30 AM to pick us up. We expect to return by 10 pm. These are estimated times.
Tentative schedule blocks:
Apollo 8
Twilight Room
4:00p
–
6:00p
registration
6:00p
–
10:00p
Opening Reception
Apollo 8
Twilight Room
9:00a
–
9:30a

Registration

Meet & Greet
9:30a
–
10:30a
Solar Eclipses 101
10:30a
–
11:00a
Break
11:00a
–
11:45a

Kerbal Space

CQ TableTop Games
11:45a
–
12:30p
Solar Viewing
12:30p
–
2:00p
2:00p
–
2:50p
Unconference
Astronomy Cast
3:00p
–
4:00p
Unconference
Citizen Science
4:00p
–
4:30p
Break
4:30p
–
5:50p
Table Top Games
6:00p
–
10:00p
Marian Call Concert
Apollo 8
Twilight Room
9:00a
–
9:30a
Unconference
Agile Games
9:30a
–
10:30a
Unconference
Nancy Atkinson
10:30a
–
11:00a
Break
11:00a
–
11:45a

Planet Making

Science Madlibs
11:45a
–
12:30p
Solar Viewing
12:30p
–
2:00p
2:00p
–
2:50p
Unconference
Astronomy Cast
3:00p
–
4:00p
Science Inspiring Art
Fraser's panel
4:00p
–
4:30p
Break
4:30p
–
5:50p
Table Top Games
6:00p
–
10:00p
Banquet, Apollo 8 and Apollo 11
Place
5:30a
Load Buses
9:30a
Arrive Carbondale
11:50a
–
1:20p
Partial Phases
1:20p
–
1:22p
Totality
1:22p
–
2:50p
Partial Phases
6:00p
Load Buses
10:00p
Arrive St Louis
Q12: What is the availability of Internet and cell phone service? What about Google Maps?
St. Louis has good reception for all US providers. The Moonrise Hotel has wifi for our event. We're expecting any cell service at the viewing site at Carbondale to be overwhelmed, and wifi to be unavailable. The buses might have wifi, but that type of wifi is usually poor. If you're going to be driving, we'd recommend having a map or atlas as a backup in case you can't get cell service and your mapping apps are unavailable.
Q13: What can we take with us on Monday?
We can take our own items and set up outside the stadium at Carbondale. There will be some limits on what can be taken inside the stadium, but we'll have a place you can leave additional items and equipment where one of us will be stationed. If we end up at a different viewing site, we'll have a similar setup.
Items you may want to bring:
A backpack or coolers for your own food or drinks (We'll have some coolers available as well)
Camera equipment
SUNSCREEN, hats, umbrellas for sun protection
Here is the website for the Carbondale festival. Your registration with us includes your admission to this event. You can check here for more information about what can be brought into the festival and the stadium, etc. We will have a tent and info table set up and manned the whole time, so if you need to bring items that can't be taken into the stadium, you can leave them with Susie at the tent.
Q14: Opportunities to express food limitations?
At the reception and banquet, we're trying to offer enough choices to cover food pickiness. If you're attending the banquet Sunday night, and are vegetarian or have specific food issues, please let Susie know ASAP so we can notify the chef. For Monday's box lunch, we will get your preferences for your order. You are welcome to bring your own cooler and food on Monday, as the food choices are likely to be less healthy and crowded.
Q15: Are people shipping things to the organizers so that they can have them for the event? 
We would recommend shipping to your hotel if you'd like to send items ahead.  Just be sure to contact the hotel and let them know you're having something shipped there.
Q16: How much room will there be on the buses for "stuff"? (e.g. will there be storage for collapsible or bag chairs, etc.)? Is bringing chairs even a good idea? (like bringing your own chairs to the son or daughter's soccer game, etc.)
We thin that these are the standard tour buses with space underneath for luggage and gear, so you may bring camera tripods, folding chairs, etc., if you wish to observe the eclipse in the amateur astronomers' zone.
If not, we will all have seats in the stadium, so chairs are not required. If you do bring them, you'll have to leave them on the bus or in our tent if you go into the stadium.
Details
Dates: Friday 18 August 2017 to Monday 21 August 2017
Where:

Aug 18-20: Moonrise Hotel, St Louis, Missouri
Aug 21: Chasing the Sun in a Charter bus

Registration Cost: US$350
This does not include hotel rooms or
travel to St Louis. 
Trip add-ons you can purchase

Sunday Night Banquet from 6-10 PM: US$65
Eclipse Bags
Eclipse Water Bottles
Program Overview
Fraser and Pamela invite you to join them in St Louis, Missouri for 4 days of astronomy and other geekery. We have reserved event space in the amazing Moonrise Hotel, right in the heart of the famous Delmar Loop.  Things will kick off Friday evening with an opening reception. Both Saturday and Sunday will be a mix of astronomy talks, practicing photography skills for capturing the eclipse, and otherwise hanging out talking science.
For the day of the eclipse, we have chartered buses to take us to the eclipse. Exactly where we land will depend on weather. Plan A is Carbondale, Illinois, where NASA will be hosting their webcast, and where a myriad of science activities are planned. Plan B is in a park south of St Louis, where the travel is less, but so are the NASA-related activities.
The US$350 Registration fee for this trip covers:
A reception with food and a cash bar on Friday night from 6-10 PM.
Event space with morning and afternoon snacks on both Saturday and Sunday
A charter bus and food (lunch, dinner, and snack) on Monday
Attendees are responsible for their own travel to St Louis, all meals, and their hotels costs. 
* We are pleased to be partnering with the Astronomical Society of the Pacific on this event. All ASP members will receive the eclipse go-bag for free!
Hotel and Event Travel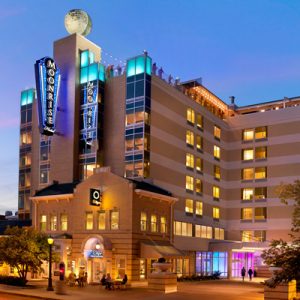 We have arranged for a block of discounted rooms at the Moonrise Hotel. This boutique hotel is in the heart of the Delmar Loop, where food and entertainment abounds. The hotel has free parking, and is themed after the Apollo mission. (UPDATE: The Moonrise Hotel is now completely booked.)