Improvements at Astronomy Cast are made possible through the generous donations of listeners like you. Your donations will allow us to continue to pay our server bills, will help us attend scientific conferences, and will allow us to hire an undergraduate helpinator to maintain our website, create transcripts of our shows, and more.
All donations to Astronomy Cast are tax deductible. We have been set up within the Southern Illinois University Edwardsville Foundation accounts. This allows us to avoid the fees associated with Paypal, while still allowing to us accept cash and credit card contributions.
To donate electronically through SIUE's Foundation, you can use Paypal
To donate via a check or money order, send a check made payable to the SIUE Foundation with a notation in the memo line on the check that reads Astronomy Cast. Checks may be sent to Dawn Olive, Center for STEM REO, Campus Box 2224, SIUE, Edwardsville, IL 62026-2224.
To learn more about making a gift through the SIUE Foundation check out the info at this site.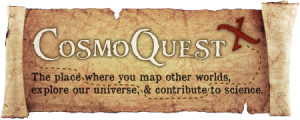 Astronomy Cast supports the efforts of CosmoQuest. We are helping that project to succeed with coding (Pamela has a team of student programmers), and server support (we use AWS, which costs money). Your support of Astronomy Cast, also helps CosmoQuest.
Thank you for all you do to help us. Your support inspires us to do new things everyday.